like a frog on a lilypad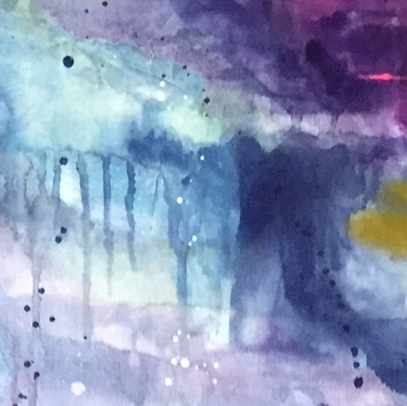 What do I know?
What do I love?
What is it that means the very most to me inside my very own self?
What makes me feel glad to be alive?
In Daybook, Anne Truitt describes a visit to the Guggenheim Museum in New York that provoked a critical moment in her life as an artist. Notice how her response to the painting is experienced throughout her body, how it takes some time for her reaction to be processed and to open up a new path for her. And notice how she knew already what she wanted to make. The experience in the Guggenheim opened her to her own intuitive vision – not so much a whisper as a rushing wind!
And when we rounded into the lowest semi-circular gallery, I saw my first Barnett Newman, a universe of blue paint by which I was immediately ravished. My whole self lifted into it. "Enough," was my radiant feeling – for once in my life enough space, enough color. It seemed to me that I had never before been free. Even running in a field had not given me the same airy beautitude. I would not have believed it possible had I not seen it with my own eyes.
…. I stayed up almost the whole night, sitting wakeful in the middle of my bed like a frog on a lilypad…
… at some point during these long hours I decided, hugging myself with determined delight, to make exactly what I wanted to make….
What did I know, I asked myself. What did I love? What was it that meant the very most to me inside my very own self?
The fields and trees and fences and boards and lattices of my childhood rushed across my inner eye as if borne by a great, strong wind…
I knew that that was exactly what I was going to do and how I was going to do it.
Daybook, pp 151-2
When I read this passage, her excitement was contagious and I did some lilypad sitting of my own. I spent some time playing in my notebook with those powerful questions, and added one more:
What made me feel glad to be alive?
The answers fed into my painting, possible places to visit, music to seek out.
My challenge to you today is to take some time to sit on your lilypad and ponder the questions at the top of the page, and let yourself hear your own intuitive answers. I wonder what you'll discover!